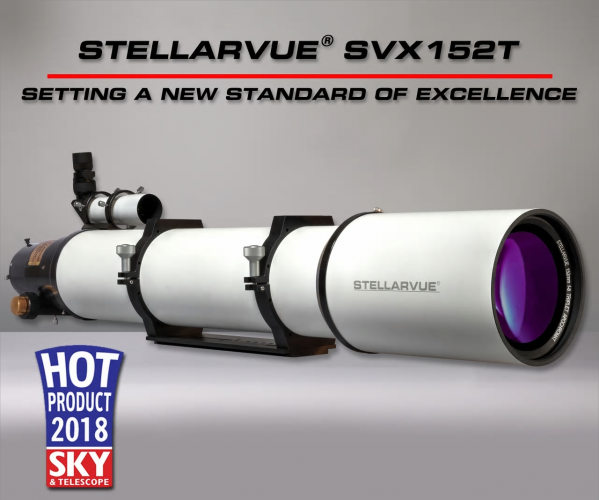 Stellarvue SVX152T Premier Apochromatic Triplet Refractor
Starting Price:
$8,995.00
Price as Configured:
$8,995.00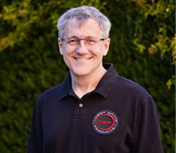 Need help deciding?
Tell us what you're looking for, and we'll point you in the right direction.
Email Us
.
This is Stellarvue's new Flagship 152 mm f-8 Apochromatic Triplet Refractor. The high Strehl FPL-53 Ohara triplet has a conventional front element, FPL-53 center element and Lanthanum rear element for extremely sharp and high contrast performance. The aluminum tube is powder-coated in our Instrument White color and the dew shield has the Stellarvue logo engraved on it.
SVX series optics are rated at .98 - .996 Strehl with excellent optical correction for aberrations commonly seen in mass produced optics. To attain this level of optical accuracy it is usually necessary for us to go beyond machine polishing. Special tools are made and experienced opticians hand figure objectives here in our optical shop in Auburn California. While our former models (without the X designation) were all excellent coming in at .95 Strehl or higher, SVX series telescopes are even more exceptional, placing 98 - 99% of the light precisely where it should be. Stellarvue Premier (X) Series refractors are for the astronomer who recognizes the best when they see it. Each SVX series refractor comes with a Zygo interferometric test report taken in our shop, documenting the final accuracy of your objective! 
This is our highest resolution telescope which performs flawlessly as a visual or photographic instrument. To use it photographically, order the correct field flattener or field flattener/reducer (see below). Our massive 3.5" focuser has 3 7/8" of travel and holds even the largest/heaviest accessories without strain. The smooth 10-1 fine focus knob allows very fine focusing and may be outfitted with temperature compensating motorization. Since we are a telescope manufacturer, we can perform some customization. If you need a different type/brand focuser for example, simply call us and we can discuss modifying your SVX152T to meet your specific requirements.  
American machined rings are strong and stable, made of 6061-T6 aluminum precision CNC machined to exact tolerance. Cast rings can break, our rings never do. 
The telescope comes with our Losmandy-Style 13" D plate and a heavy-duty, American made Roadie-style case with wheels, a handle and solid 3/8" plywood walls (This is a durable and strongly padded hard case - it is not the typical cheap import case). 
Also included is our F50W2 finderscope with illuminated reticle eyepiece and R050FA Finder rings. 
Each lens is tested here to meet our APO Triplet standard with straight lines, .98 or better Strehl ratio and an excellent Airy disk. Using the best glass combined with highly accurate figuring and continuous testing throughout the process, this is as good as it gets.
We are nearly out of lenses on our first run of 50 units. We will be starting our next run soon. So, order now if you want your telescope before summer or wait until the next run which we plan to complete this Fall. Updates are sent out regularly to those waiting. 
Your lens will be meticulously and individually hand figured here in Auburn CA to the highest optical standard. Performance of your lens will be documented here using our Zygo laser interferometer. This test report will certify the actual performance of your lens and will be provided with your instrument. These are the sharpest 6" apo lenses we have ever made and ever seen!  All SVX152T lenses are .98 - .99 Strehl as measured at 100% on our 6" Zygo phase-shifting laser interferometer.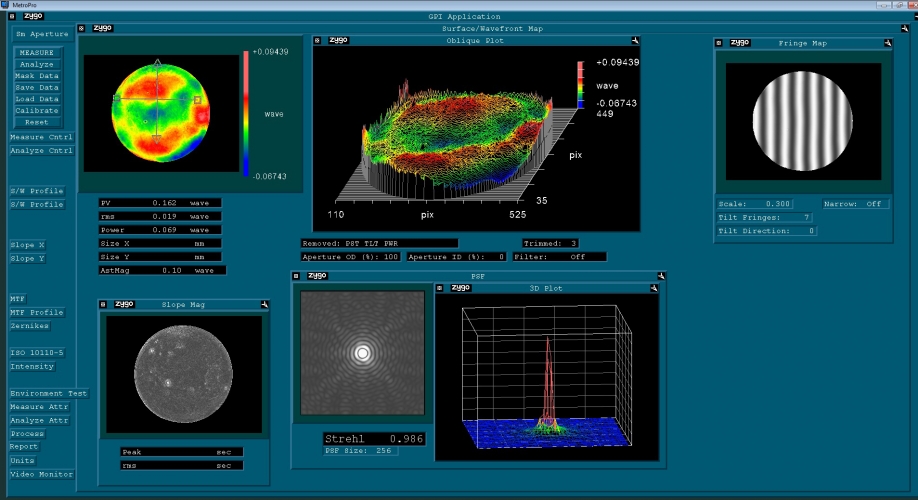 To image with this telescope at 1200 mm f-8, use the SVX152T-35SV photographic field flattener. A much larger SFF5-152 field flattener that will provide a 90 mm image circle is in progress and will be available when completed in 2019. 
To image at 900 mm f-6 use the SFFRR.72-152-48 photographic field flattener/reducer.  A larger field flattener/reducer with a 52 mm image circle for use with the 152T is in progress and will be available when completed in 2019.
 The delivery date estimate shown refers to new orders placed now. Actual delivery dates may vary since each telescope objective takes a different amount of time to hand figure to perfection. The sooner you order, the sooner you will have yours.


Free shipping:  Order now and when ready the telescope will ship free to the lower 48 states only. Shipping will be either UPS or Fed Ex whichever has the lowest rate. You may either order online and pay full price or call us and place a phone order with a $500 deposit. Either way, you will be placed in line when payment or deposit is received. We build these hand-crafted telescopes one at a time so the sooner you get on the list, the sooner you will receive yours.