The availability on the market of more and more advanced and flexible astronomical imaging systems has opened new windows to the sky.  Today, ultra-high definition and ultra-high speed imaging is within the amateur's reach far more than what was predictable ten years ago.  10 Micron's products evolved at the same pace over the last 10 years in terms of tracking and pointing accuracy and speed.  The HPS series mounts are now at the peak of this process.
Every observer knows that when you are under the sky you have little time and each setup operation comes with the risk of compromising the night.  Having excellent performance on paper means nothing if many complex setup operations are required before reaching that performance.  This is the reason 10 Micron mounts are designed around the user's needs, and not to enforce the mount's way of operation on the user.
10 Micron mounts are now used in the field as well as in remote observatory sites, in educational observatories as well as in the extreme climates of northern Canada and the Atacama Desert. 
The 10 Micron GM1000HPS basic package includes:
GM1000HPS mount head with absolute encoders on both axes

Control box and stand-alone hand pad with internal modeling and control software

QCI 2.8 software

Counterweight shaft

3" Losmandy-style dovetail clamp




Mount cables

AC/DC power supply


Integrated WiFi



The complete package for the GM1000HPS adds:
One 13.2 lbs. (6 kg) counterweight

One 6.6 lbs. (3 kg) counterweight




10Micron Aries tripod and soft case

Mount head protective bag

Mount head and accessories hard cases

Laser pointer mount




Perseus software
Click below to download the GM1000HPS brochure (please note that some items may have changed from this brochure):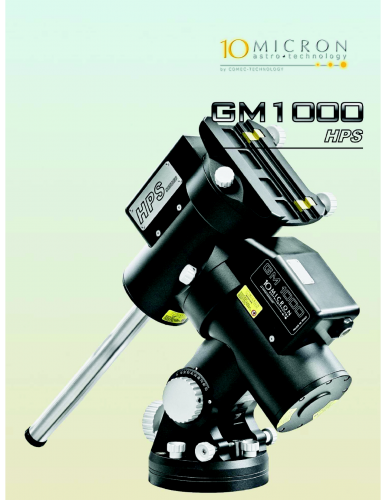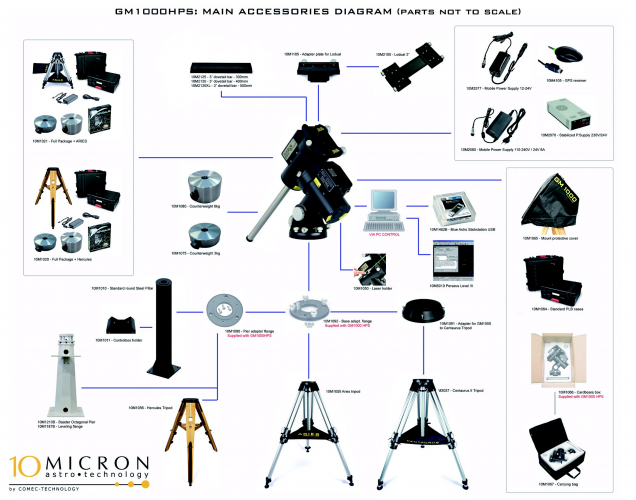 Please note that 10Micron piers are not available in the US.