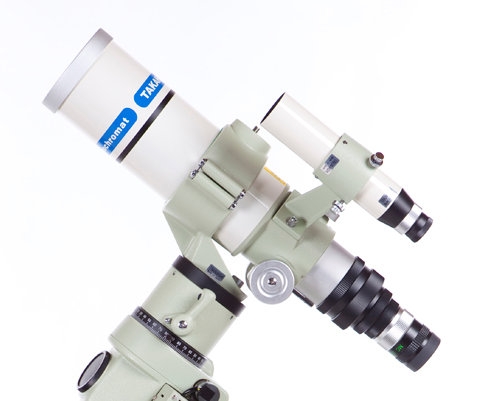 The FS series of apochromatic refracting telescopes from Takahashi provides a balance of high performance, compact size, and low cost. At its heart is a two-element fluorite lens set that provides outstanding performance for both visual and imaging applications. The FS series makes use of several reducers, extenders and flatteners to further enhance its capabilities and performance.

The Takahashi FS-60CB refractor is the ultimate mobile instrument. It combines first-class optical and mechanical qualities with outstanding compactness.

It can easily be used for astronomical or terrestrial observation. Astrophotographers can use it as a wide field astrograph or a guiding instrument. A focal reducer (F/4.2) and a field corrector (FL-FS-60C or multi-flattener FC/FS MFL1.04X) are available as options for wide-field imaging. A 1.7x extender (f/10) allows the refractor to be upgraded to the so-called FS-60Q version. A wide range of accessories adapts the FS-60 to your specific needs.
The FS-60CB's main advantage is its air-spaced apochromatic fluorite doublet, manufactured with the same care as all the Takahashi larger diameter telescopes. Performance will surprise many a purist. Takahashi's mechanical excellence makes the FS-60CB one of the best refractors of this diameter available on the market. Lightweight and compact, the FS-60CB will delight all observers with its versatility.
Included in the FS-60CB box:
Optical Tube Assembly
Visual Adapter TKP20005
Coupling (L) TKP00104
Aux Ring TKP20001
Eyepiece Adapter TKP00101
Coupling (DT) TKP20006B