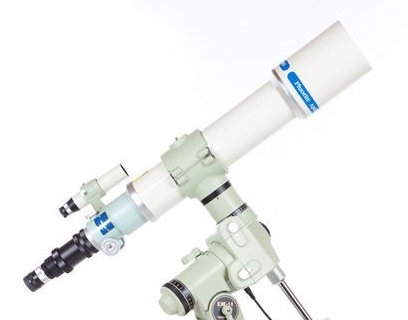 Like the FS series, the FC series are apochromatic refractors with two-element fluorite lenses. The FC series have larger apertures and longer focal lengths than the FS series, and provide outstanding performance both for the visual observer and the digital imager. The FC series has its own dedicated set of reducers and flatteners, and is also able to use some of these accessories from the TOA series.
FC-100DF

The FC-100DF is optically identical to the DC model, but features an enhanced 2.7 –inch focuser. It also features a shorter tube length that provides additional back focus for digital imaging applications. This added back focus allows use of the FC-35RD reducer, which converts the DF to an f/5.4 instrument.

The FC-100DF is designed around a fluorite doublet at f/7.4. It is equipped with a 50.8 mm rack-and-pinion focuser, larger than that of the FC-100DC, allowing the mounting of heavier cameras. Its use remains very versatile and even a small mount will make it possible to exploit its full potential.

A field corrector is available for astrophotography at the native focal length of the refractor. It can also be equipped with a focal reducer : either the 76D-RD model normally intended for the small focuser, or the FC-35RD model, specific to the FC-100DF and its 50.8 mm focuser. The use of the latter is recommended for cameras or APNs equipped with APS-C or higher sensors.

Included in the FC-100DF box:

Optical tube assembly
50.8mm AD Ring TKP19001
50.8mm Sleeve TKP00113
Coupling (S) TKP00103
Eyepiece adapter (31.7mm) TKP00101
Eyepiece adapter (50.8mm) TKP27110
Extension Tube L (50.8mm) TKP31112