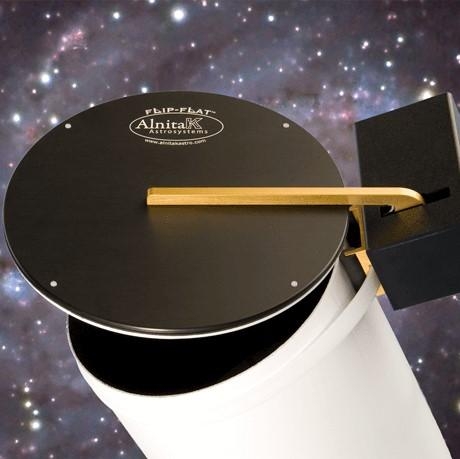 Optec Alnitak Flip-Flat Flat Fielder and Dust Cover for 6" to 7-5/8" OTA
Starting Price:
$550.00
Price as Configured:
$550.00
Brand:
Optec
/ SKU: OP-19051
The Flip-Flat employs advanced electroluminescent lamp panel technology to provide a uniform source of illumination for the production of high quality flat field frames necessary for serious astroimaging and photometric work. With the Flip-Flat, on-demand flat fields with uniformity errors less than 1% are now possible.
In addition to providing excellent flat fields, the Flip-Flat protects the objective lens of the telescope from dust that typically plagues remote installations where the user cannot manually replace the lenscap after an imaging session.  The Flip-Flat is easily  mounted to the front of any telescope tube (or rigid dewshield) with an OTA outside diameter between 4" (100mm) and 8-1/8" (206mm).  The Flip-Flat is attached to the telescope OTA with industrial nylon zip straps and easily removable for transport and storage.
A simple Windows interface provides the ability to open and close the Flip-Flat and turn on the light source. The intensity of the light can be adjusted to one of 255 levels.
IMPORTANT:  Note that the diameter of the fully illuminated lamp for each of the Flip-Flat models is 6.7" or 170mm, regardless of the model purchased.  To accommodate the smaller 4" to 6" OTA's, Optec adds a spacer to the mounting bracket which better centers the lamp over the OTA.  For the larger OTA, the bracket is machined down and an oversized ring is added to block any stray light from interfering with the flat lamp.

This product is for 6" to 7-5/8" OTAs.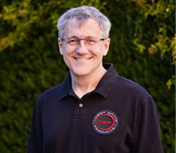 Need help deciding?
Tell us what you're looking for, and we'll point you in the right direction.
Email Us
.
Lamp Diffuser Diameter:    7.7" (195mm)
Lamp Illumination Diameter:    6.7"  (170mm)
Control Box Dimensions: 2.25" x 3.15" x 4.2"  (57 x 80 x 106mm)
Weight:     1 lb. 6 oz. (0.6 kg)
Lamp Pivot Arm:    6.1" (155mm) length
Range of Pivot Arm:  95-degrees
Power requirements:  5VDC provided by USB interface
Shipping Weight:
4 lb
Package Dimensions :
14" x 12" x 5"