PrimaLuceLab EAGLE CORE - control unit for astrophotography with DSLR camera
Starting Price:
$299.00
Price as Configured:
$299.00
Do you want to take pictures of galaxies, nebulae and star clusters like an expert but you don't want to use a computer for long exposure astrophotography with your Canon or Nikon DSLR and mirrorless cameras? Switch to EAGLE CORE and combine the high performance of an astrophotography telescope with ease the use of a star tracker! Forget uncomfortable computers, drivers to install and complicated capture softwares, with EAGLE CORE DSLR and mirrorless astrophotography is fast and easy! Combining a capture, autoguiding, focusing and planetarium software that you control via Wi-Fi from your smartphone or tablet to the innovative power system, you no longer need computers and heavy batteries. All in a Plug-and-Play device very easy to use even for those without experience!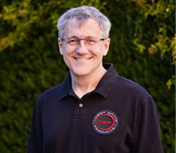 Need help deciding?
Tell us what you're looking for, and we'll point you in the right direction.
Email Us
.
DSLR and mirrorless cameras are great for astrophotography (even for long exposures of deep-sky objects such as galaxies, nebulae or star clusters) since they have high sensitivity and low noise, so they are able to record very weak details. Just use an equatorial mount with autoguide port and EAGLE CORE will allow you to record wonderful images of the objects of the Universe both using photographic lenses and telescopes! Thanks to EAGLE CORE, your instrument will have the high performance of an astrophotography telescope but with the portability and ease of use of a star tracker.
Compared to EAGLE, that thanks to Windows operating system and the ability to install any astrophotography software is perfect for the astrophotographer that wants to make advanced astrophotography, EAGLE CORE is designed for those who start to do astrophotography and are searching for a very simple to use system or for those who want an easily transportable system as "travel telescope".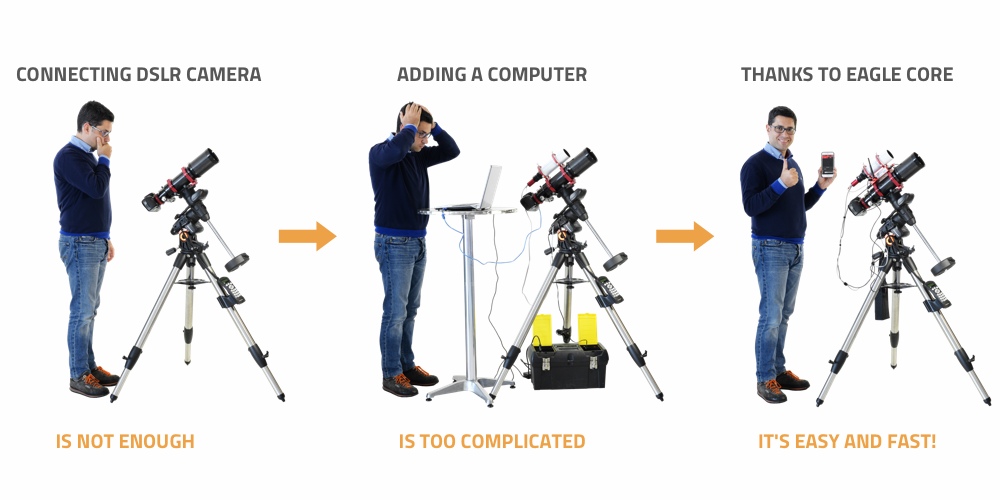 In order to make high quality astrophotography, connecting a DSLR or mirrorless cameras to the telescope is not enough. It is necessary to be able to set and shoot the camera without touching it to avoid vibrations while recording and use the autoguide to automatically correct normal tracking errors of equatorial mounts. When using an external computer, telescope becomes complicated because of many cables or power supplies, it is less portable and it is necessary to study the capture and guide software. EAGLE CORE simplifies both your telescope and software, making your instrument easier to use and transport.
What Can You Do With EAGLE CORE?

- Control all the devices from your smartphone or tablet with a convenient WiFi connection: you can stay warm in your house or car and control every device of our telescope, without touching it.
- Remotely control your Canon EOS or Nikon DSLR or mirrorless camera: set acquisition parameters (number of shots, exposition time, ISO, dithering, delay between pictures), then start capturing a single image or a sequence.These are the cameras already tested and verified with EAGLE CORE:
- Canon EOS 1000D, 1100D, 1300D, 20D, 4000D, 40D, 450D, 500D, 550D, 5D Mark II, 5D Mark III, 5D Mark IV, 600D, 60D, 60Da, 650D, 6D, 700D, 70D, 77D, 750D, 7D, 80D, 800D, R
- Nikon Z50, Z5, Z6, Z7, D3200 (D3200 can't "B" mode), D3300, D3400, D5600, D7000 (D7000 can't "B" mode), D750, D7500, D810, D850, D90

- Focus your DSLR or mirrorless camera: thanks to a special simplified mode, you can focus on the smallest details of your image, moving the focuser manually and remotely thanks to the optional SESTO SENSO and SESTO SENSO 2 motors or ESATTO microfocusers.
- Control the computerized mount: connect the handpad of your computerized mount to one of the USB ports of the EAGLE CORE and use SkySafari PLUS or PRO (sold separately) to control it from your device connected to the EAGLE CORE WiFi. Mounts already tested with EAGLE CORE:
- SkyWatcher mounts with SynScan hand-pad (firmware at least 4.39)
- Celestron mounts with NexStar+ hand-pad
- Control autoguide camera: thanks to the integrated autoguide software, it automatically corrects tracking errors of the telescope's mount (compatible with QHY5II-L, ASI120MM-S, ASI120MC-S, ASI178MM, ASI290MM, ASI290MC)

- Use dithering: in order to minimize electronic noise and get a better image when you stack more pictures of the same object

- Power up to 3 devices (12V): thanks to optional cables and adapters, you can power the DSLR camera, the mount, etc directly from the EAGLE CORE eliminating the need for other batteries and other external power supplies.
Thanks to EAGLE CORE you will no longer need a laptop: in fact it includes EAGLE OS software to control autoguide and DSLR or mirrorless camera. You can control all capture and guide parameters directly on the screen of your smartphone or your tablet (compatible with iOS and Android devices) connected to EAGLE CORE through the convenient WiFi connection.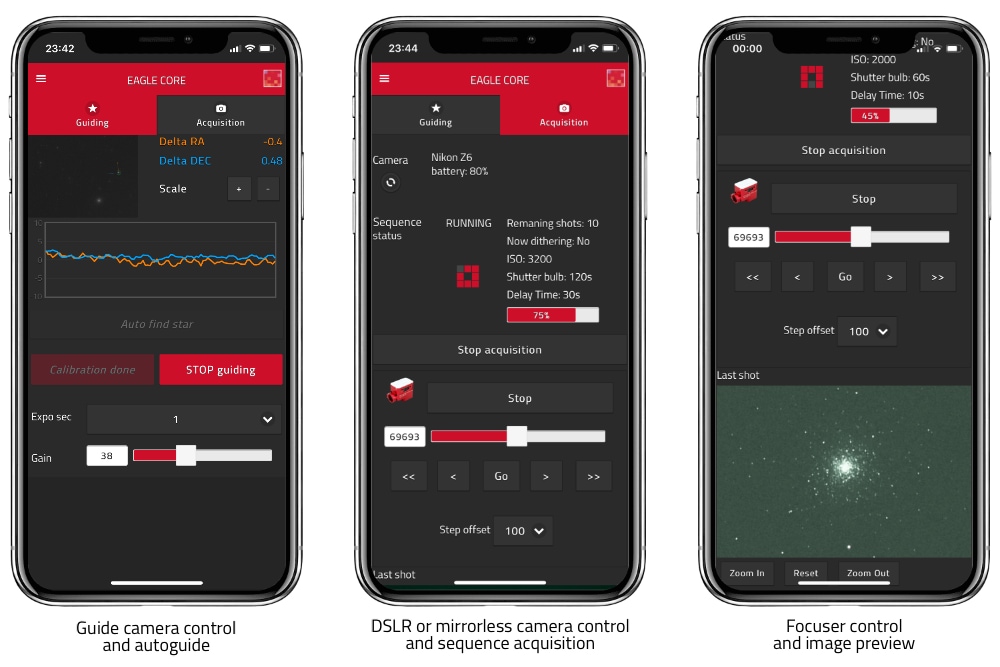 Thanks to the innovative design protected by international patent application and Italian utility model, EAGLE CORE has 3 power OUT ports that you can connect (using the optional cables) to different devices such as camera or mount. In this way you will have only one power cable to power EAGLE CORE and other devices and you will reduce not only total consumption but also the number of cables in your instrument. You can also use the optional "Eagle-compatible power cable for Canon EOS and Nikon DSLR camera" to power them from EAGLE CORE (removing the battery you will no more have problems with batteries running out of charge during capturing!).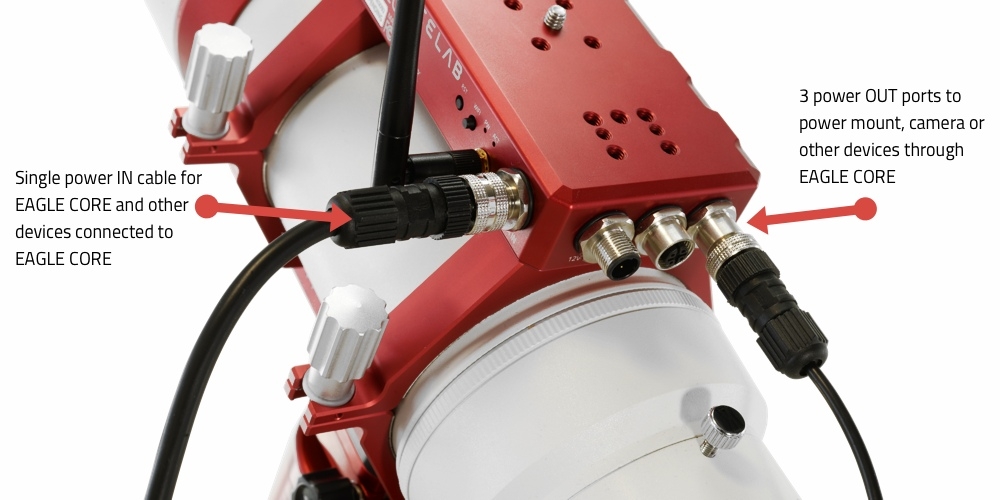 All the incredible features of EAGLE CORE are enclosed in a compact, lightweight device with the great PrimaLuceLab design. EAGLE CORE case is made of aluminum blocks that are high precision CNC machined. The aluminum is then sandblasted to achieve a very smooth surface finish and is anodized (hard anodizing) to increase the hardness of the material and protect it from oxidation. EAGLE CORE weights only 520 grams so it does not add too much weight on your telescope mount and allows you to create an incredibly portable setup. All in a device 17cm long, 8cm wide and just 3cm thick.