Deep Space Products Mission Control 300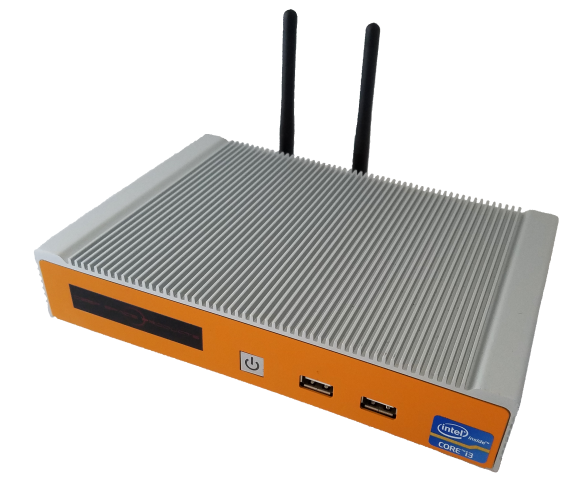 Small NUC form factor, dustproof, ventless, industrial-grade fanless observatory computer.
Unlike other available NUC-based computers, the MC-300 is completely fanless, protecting against dust or other debris in observatory applications. Removing the fan also removes a point of failure, creating a solid state solution with no moving parts that will outlast commercial NUCs and desktops.  In addition, the use of passive cooling reduces the potential for vibration and eliminates all noise.
The single-interface heatsink provides optimal heat transfer, further improving cooling performance over other similar cases. Separate heatsinks for the storage and Wi-Fi, ensure optimal reliability for the individual components, even during write-intensive or network-intensive operations.
Measuring 196 x 37 x 131 mm ( 7.7" x 1.45" x 5.17") and approximately 2.6 pounds, the MC300 is small enough and light enough for discreet placement in space-constrained observatory environments including scope-top applications.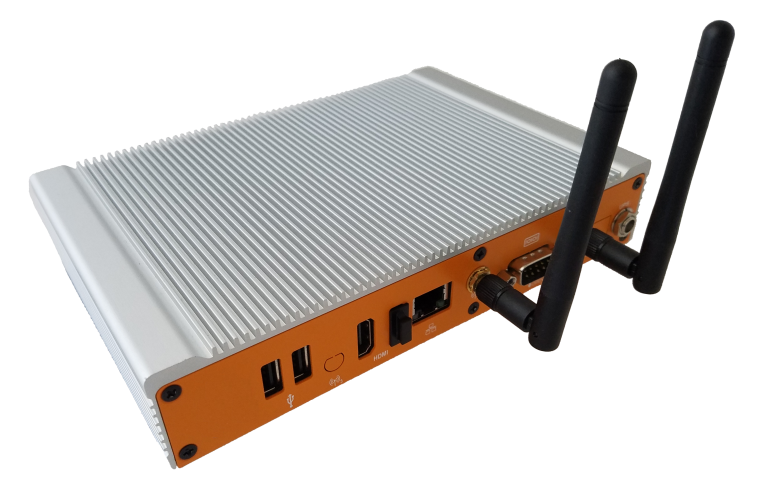 The one-piece extruded aluminum lid creates an optimal surface for efficient heat dissipation.  An EMI gasket reduces the risk of electromagnetic and radio frequency interference.

Power can be supplied from any 12VDC power source with at least 3.5 amps.  The power connector is a standard 2.1mm barrel connector.


Comes with Windows 10 Pro installed.  We can provide additional services to install software sold by Deep Space Products or your own software that you provide to us. 

We can also provide custom configurations, like the one seen below that was put together for the Mars Society's Mars Desert Research Station.  Custom configurations can include
complete custom scope-top systems with the computer and other observatory equipment, mountings, custom-length cables, etc. 
Contact us

for complete custom systems.


The base configuration for the MC300 includes the following:
Fanless case with single-piece heat sink
1.10 GHz
Intel® Celeron® Processor
Mobile Intel® QS77 Express Chipset
Windows 10 Pro
8GB RAM
64GB SSD
Wifi/Bluetooth with dual antennas
RS232 Com port
Mounting hardware

Board Specifications
Celeron Board MC300-C
Board Chipset - Mobile Intel® QS77 Express Chipset 
Processor - Intel® Celeron® Processor 847 (dual-core, 2M Cache, 1.10 GHz) 
i3 Board MC300-i3
Board Chipset - Mobile Intel® QS77 Express Chipset 
Processor - Intel® Core™ i3-3217U Processor (3M Cache, 1.80 GHz) 



General Specifications


Storage
Internal Drive Form Factor - mSATA SSD 
Internal Drives Supported - 1 

Memory
Max Memory Size (dependent on memory type) - 16 GB 
Memory Types - DDR3 1333/1600 
Max # of DIMMs - 2 
Graphics
Integrated graphics
Dual HDMI output
Dual displays supported 
Expansion
PCIe Mini Card Slot (Half Length) - 1 for WiFi card
PCIe Mini Card Slot (Full Length) - 1 for SSD
I/O
USB Revision 2.0 
USB Ports - 4
Serial port from internal USB to serial adapter
Integrated 10/100/1000 LAN



Power


Board - 19VDC via internal boost converter
System - 12VDC



Warranty


90 days